WordPress
WordPress is the best fit for your company if you are looking to have a great site that will appeal to your clients and be extremely easy for you to maintain and update on your own without the need to have a Ph.D. is coding. It works great with current google standard and is easily built to be responsive and easily accessible on any device you can think of. Your website will already be ready for the future. WordPress is currently running over 27% of ALL websites on the internet, and that number is expected to keep increasing as the world wide web grows.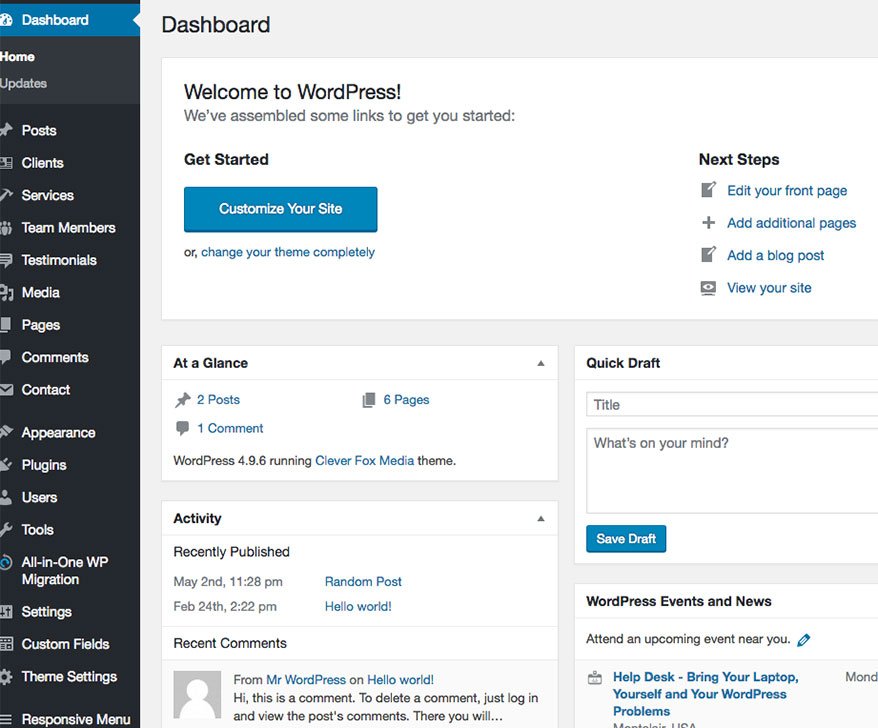 WordPress is one of the most if not the most utilized Content Management Systems(CMS) on the web today. It is estimated that every 1 in 5 websites utilizes its framework to run on the web. And, it does not look to be slowing down.
Great Content Management Platform
A WordPress site will allow you to have a beautiful site that looks and response the way you want it to all while giving you the ability to update the site content on your own, whenever you want to!
WordPress offers:
A simple and Robust content management system that applies to every post or page of your site.
Easily maintain your blog posts and page content when you want to and you can even do it from your phone.
You can easily have slide shows, youtube, Vimeo or self-hosted videos as well as music and podcast files.
The ability to use WordPress to create custom content post types that will help organize your site in easily consumable bytes.
Allow for multiple levels of site administrator to maintain your site
Manage critical SEO meta such as unique page titles, search engine friendly URLs, keywords, and page descriptions.
Easily add elaborate or simple forms to collect data from your clients allowing you to interact with them digitally.
Sell your products online right through your own site and without the need to work on a separate platform. Everything in one place.
Add awesome additional functionality to your site by utilizing a huge community of rock-solid plugins
Open Source with great stability
WordPress is an Open Source Software which basically means that the code that it is built on is open to use and alter by the general public, and is completely free to use without the need to purchase a license. This creates a huge and diverse community that is worked on by thousands of industry professionals and updated at a very regular date.  This allows WordPress to constantly grow, becoming better, faster and easier to use as well as having its security as a top priority.